Project Description
An Eventful Time for Stevenage Town Centre
WestEnd's pop-up Wi-Fi has been in top demand over the last few weeks as Stevenage town centre has hosted a series of events for visitors to the town square, over the weekend in summer.
The Chill N'Funk Day was the ideal event for families who wanted to unwind, with a host of fun activities laid on for the children such as face painting and the opportunity to meet Mickey and Minnie Mouse in person!
Refreshments were on hand via the Gin Wagon whilst Stevenage's own SG1 Radio was there, playing a mix of live and recorded music for bystanders.
As the occasion was live-streamed to SG1 Radio's own Facebook page, good and robust pop-up Wi-Fi was needed, which was provided by WestEnd WiFi.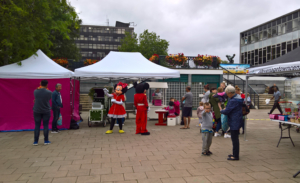 The following weekend was Stevenage International Day Event which celebrated many cultures from around the world.  Visitors to the town centre were treated to a display of dancing from the Warriorz, the Esmerald Dance group and the ever-popular belly-dancing!
There was also a taste of international cuisine from Indian to Caribbean to whet any visitor's taste buds.
SG1 Radio once again provided the entertainment with live music and live-streaming the event which called for our pop-up Wi-Fi solution again.  Total reliability was called for as the streaming lasted for the duration of the event, so our resilient solution was the answer!
With the visitor metrics provided by WestEnd WiFi, it was possible to see enhanced footfall in the area, showing that the town centre events are a popular draw.
Lindsey Nicholls
2023-04-05T16:54:05+00:00
Choose Love, the charity that is dedicated to improving [...]