Bespoke Accessories for Demanding Locations
Designer Brackets for Protected Buildings
Protected Buildings and Communications
Many of London's buildings and street scapes are protected by government from alteration in major, and minor ways.  Any building built before 1840 is invariably listed by National Heritage.  Even areas of London that were once slums, such as Soho and Seven Dials, have a unique ambience and, as an area, will be similarly protected even if the buildings themselves are not listed.
Whilst red phone and post boxes have become part of the street scene, the big communication boxes are most definitely a visual, and access restricting, encumbrance.
From the outset, we look at ways of designing brackets, and equipment appearance, so that it merges in with the bricks and mortar of an area.  Where gas lights are used, we take cues from the original 19th century designers to ensure our brackets complement them.  Where there are dark walls, we try to blend the colour of the access point so it fades into the brick work.  Where there is protected brick, we can adjust the bracket mounting so the bolts only ever anchor into the mortar, not the listed fabric of the wall.  We can even take images of a wall and create wraps to camouflage equipment.
In street switching and cabling are also colour matched, reduced in size, and tucked out of the way.  We do this by using local estate electricians who know their estates' history of power runs, quirky roofs, passageways and cellars.  Power, water and gas for instance, often have undocumented paths from generations of development and refurbishment, things that outside electricians can not be expected to know.
In addition, London's planning laws, approval processes and special interest groups, all come into play when installing new infrastructure.  So we engage with the local and government community to understand what they find acceptable, especially as more sites seem to become a cluster of jarring technology, obscuring architectural interest.
Our designers work with the latest 3D modelling technologies, 3D and LASER manufacturing organisations, to develop the special brackets reflecting the area.  We also design combination brackets that can take more than one piece of hardware, like Wi-Fi, Small Cell and IP CCTV, and minimise it's appearance whilst providing line of site for the equipment.
All the installation engineers and electricians are certified under health and safety laws, as well as working at height legislation.
Please contact us at [email protected] if you have a particular design or installation requirement.
We are designing and creating new brackets all the time to meet our, and our clients', design requirements.  Come back soon to see what else we have developed.
Curly Bracket Concept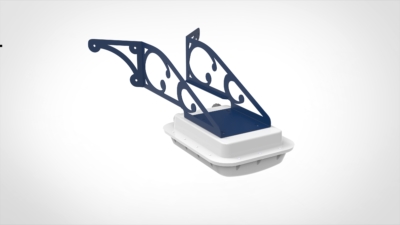 Railway Lattice Concept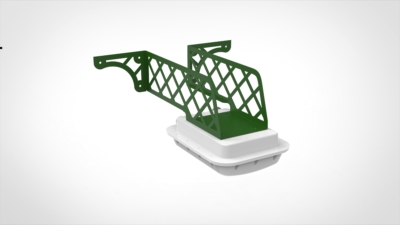 Swivel Corner Bracket – Powder Coated with Wrapped AP
45 deg Corner Bracket – Powder Coated with un-wrapped AP
Drop ceiling mount for shops, overhangs and warehouses
Wrapping
Access Points, and in street switches, can be wrapped in car grade vinyl from 3M.  This reduces the visual impact by blending the hardware to its backdrop.  Whilst not inexpensive, the advantages, when matched with a bespoke bracket, are very evident, and will help mollify planning issues.