Wi-Fi onboarding and engagement service made easy!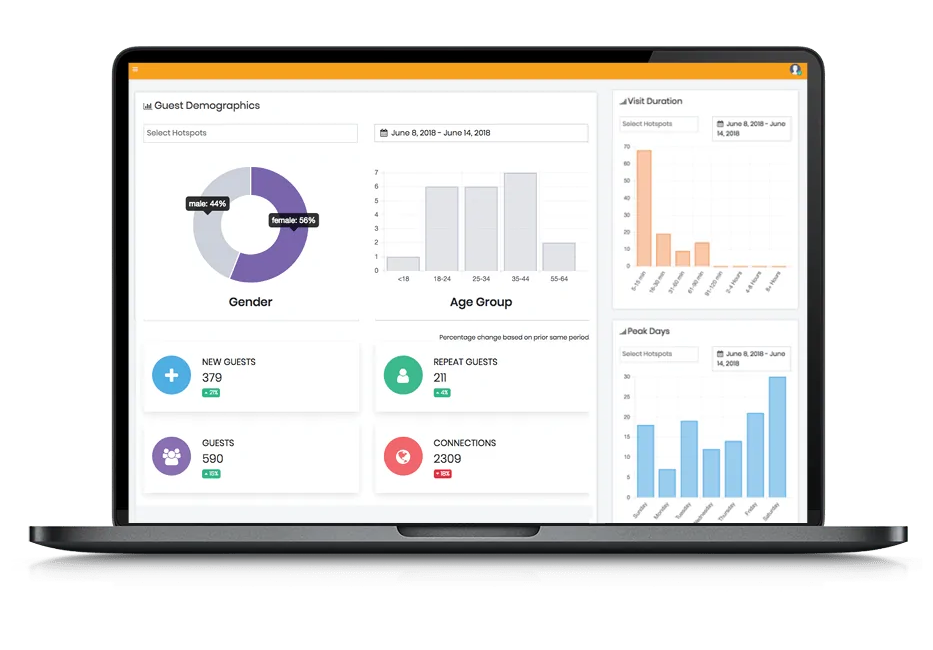 Marketing4WiFi is the very core of the Wi-Fi onboarding and engagement service with three plans with features carefully chosen for your business and the type of services you want to offer.  So you may be a sole trader with a small coffee shop, a large multi site restaurant or a conference centre with 10's of thousands of people visiting per day, Marketing4WiFi has a solution for you.
The plans listed below are easy to budget.  They consist of the plan itself which includes a single wireless access point licence and then you add on the extra number of wireless access points you want to include.  So if you have a coffee shop with two access points, the cost is £28 per month for the Essentials service and an additional £24 per month for the additional access point making a total of £52 a month, plus VAT.  If it's paid yearly in advance, there is a 10% discount.
The Essentials plan has all the services you need to welcome new and previous customers, create social media engagement campaigns, have your own dashboard where you can see how people are using your Wi-Fi, and proactively use Marketing4WiFi to make your location an engaging and friendly place that people return to.
The Professional plan offers a bit more, and suits multiple locations like restaurants and retailers allowing you to create custom forms on sign up, smart coupons to attract regular customers, and data download so you can integrate visitors into an existing CRM system.  Professional is priced at £55 a month but the extra access points remain at only £24 a month, all plus VAT.
The Professional Plus plan is aimed at larger venues, hotels, shopping centres, schools or locations who require more detailed integration with existing systems.  These businesses will appreciate the API and Zapier access into multiple backend systems and services, guest flow onboarding which allows for surveys and interaction with new and returning users, and optional automated invoicing of premium paid for users which is especially useful for conference and exhibition centres that don't want to issue manual invoices to paying users.

£28 + VAT per month including 1 Wireless Access Point Licence
Each additional access point licences are £24+VAT
Ideal for coffee shops and smaller retailers
Marketing4WiFi Dashboard Access
Fully Branded Login Page
Touchless Menu templates
Basic Guest Analytics
Facebook Like and Check-In
Dedicated Account Manager
Downloadable Marketing Materials
Customized WiFi Network Name
Advanced Guest Insights
Email and Social Campaigns
£55 + VAT per month including 1 Wireless Access Point Licence
Each additional access point licences are £24+VAT
Ideal for coffee and retailer chains and event venues
Fully Branded Login Page
Touchless Menu templates
Guest Analytics
Facebook Like and Check-In
Dedicated Account Manager
Downloadable Marketing Materials
Customized WiFi Network Name
Custom Landing Redirect
Advanced Guest Insights
Email and Social Campaigns
Full Data Export to CSV
Smart Coupons
Mail Provider Integration
Custom Forms
Contact Manager with Import (up to 1000 contacts FREE then £24+VAT per 5000)

£82 + VAT per month including 1 Wireless Access Point Licence
Each additional access point licences are £24+VAT
Ideal for larger venues, retailers and restaurant chains, schools, hospitals and casinos
Fully Branded Login Page
Touchless Menu templates
Guest Analytics
Facebook Like and Check-In
Dedicated Account Manager
Downloadable Marketing Materials
Customized WiFi Network Name
Custom Landing Redirect
Advanced Guest Insights
Smart Email and Social Campaigns
Full Data Export to CSV
Smart Coupons
Mail Provider Integration
Zapier Integration & API Access
Custom Forms
Guest Flow
Contact Manager with Import (up to 1000 contacts FREE then £24+VAT per 5000)