IP CCTV & SMALL CELL SERVICES
In a crowded city, IP CCTV and 5G need private, high bandwidth and low latency connectivity, which we provide and manage using our own circuits from Colt.
We can also undertake a full CCTV & Offload DBOM service utilising our trusted industry partners.
IP CCTV BACKHAUL and INTERCONNECT
Resilient, Fast, Secure, Versatile
Old CCTV systems provide only basic feeds to the local security specialists.  This leads to poor intelligence for the security agencies to prosecute serious crimes.
With local CCTV being withdrawn as too expensive for local government to maintain, it falls on estate and property owners to actively protect their visitors, employees and buildings.  This inevitably leads to a generational change in CCTV technology, and the potential opportunities this provides, but also challenges.
The benefits are many, especially for estate owners.  Clear digital imagery allows for C&C and mobile security staff to be directly fed high quality video from all cameras.  C&C not only have situational awareness, but their colleagues in the street can directly see the same video feeds, and the view from around blind corners; protecting themselves against physical violence.
For the emergency services, the feeds can be monitored by all relevant agencies in real time, and appropriate medical and situation security intelligently deployed.  Another advantage is facial recognition of potential offenders, and AI anticipation of criminal activity.
Commercial opportunities arise from more accurate footfall monitoring, necessary for investors, tenants and local government.  That same technology, can also identify visitor demographics, estate flows and enable early crowd management.
While the advantages of IP CCTV are clear, there are also issues.
The cost of procuring and installing IP CCTV will be high.  Apart from existing power feeds, most of the legacy CCTV installation will be scrap.
Cost Benefit analysis, on purely a like for like replacement, will be problematic, however other factors come to bare, and cost can be mitigated by the opportunity the change in technology offers.
Fundamentally, IP CCTV allows security specialists to protect people and property – that's a given benefit.
Full requirement investigation and location based surveys, whilst time consuming, will provide a smoother installation, and enhance the return on investment.
Security and performance requires a full system IP architecture design.  This ultimately benefits by an install once approach.
High bandwith Fibre and Wireless connections are initially costly to install, and can disrupt the local area.  Disruption can be minimised by using pre existing cable routes, co-sharing ducting and intelligent use of wireless bridges.  Carrier grade Wi-Fi can also be used.
Licensing from local authorities, special interest groups, and building protection can be cumbersome.  By working with these organisations, the disruption to visual amenity can be reduced, and even be sympathetic to the architectural and cultural tone of the area.  For instance, utilities such as gas lights and telephone boxes are now part of the identity of London.
Hardware installation can be optimised with bespoke brackets, attaching to mortar so that the building fabric is not damaged.  Integrating Wi-Fi and IP CCTV cameras into one installation, reduces street clutter.  For instance, Wi-Fi Access Points can provide BOTH power and backhaul for the CCTV cameras, reducing cabling.
Retraining of security specialists will be required, but that offers another opportunity of providing them with the mobile tools to protect themselves whilst patrolling the streets.
Data backhaul is an operational cost.  In the local area, a closed IP network will reduce ongoing expense.  However, police, councils, and remote C&C facilities will require connectivity.  By mixing in Wi-Fi access and Fibre broadband to local businesses and network operators, the cost of backhaul can be offset.
With our own data centre, we can offer disaster recovery solutions for multi vendor fibre backhaul, data retention and redistribution of data streams to the emergency services and support desks.  Our data centre location is also used by banks and cloud companies, as it offers extremely robust physical security, as well as power and comms redundancy.   Geo redundancy can also be offered.
Axis PTZ plus 360 deg Coverage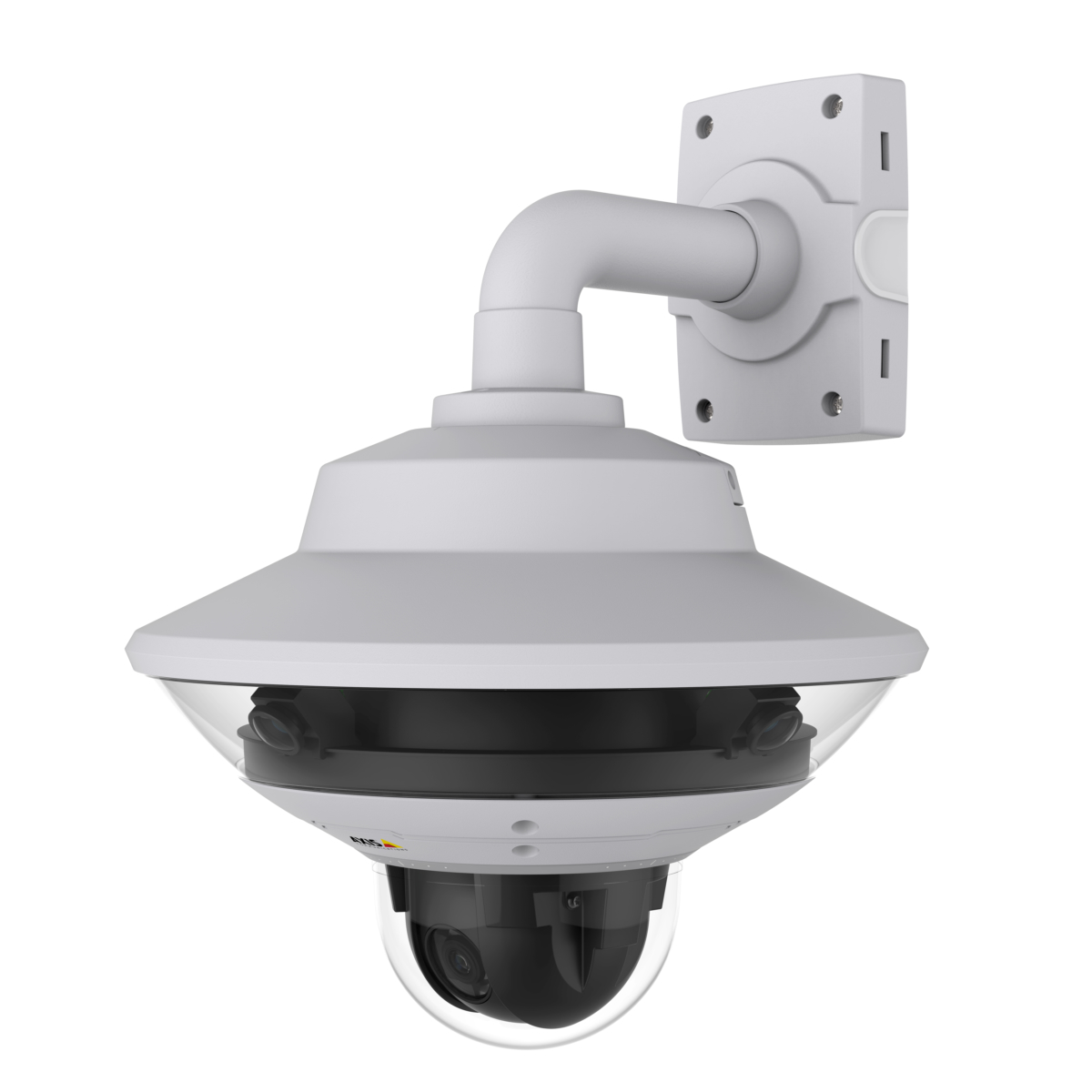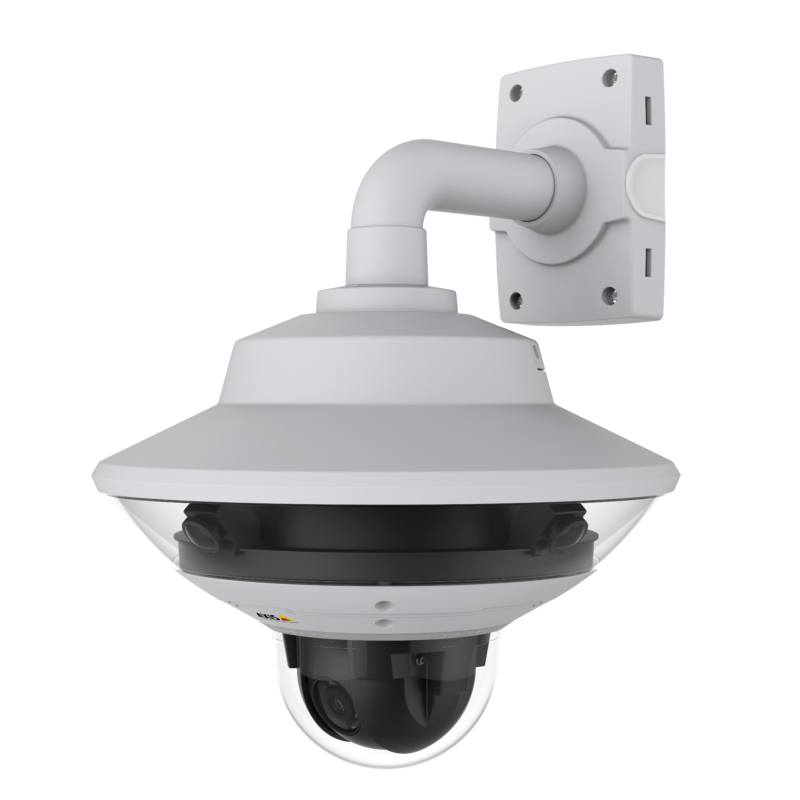 Wrapping
CCTV cameras and Access Points can be wrapped in car grade vinyl from 3M.  This reduces the visual impact by blending the hardware to its backdrop.  Whilst not inexpensive, the advantages, when matched with a bespoke bracket, are very evident, and will help mollify planning issues.