Combating Digital Poverty with
Leaky Wi-Fi
Digital poverty has reached crisis levels.
Pre Covid, children were taught face to face in schools and colleges that possessed all the technology to support students, such as Wi-Fi, internet access, course material as well as the devices to enable classroom learning.  After school sessions allowed for some homework to be completed.
Whilst less than ideal, parents and young adults could hop onto free Wi-Fi at the local coffee shop or library to make benefit claims, apply for employment and download course material.  That all disappeared with Covid lockdowns.
Education, employment and access to benefits are now, almost, totally internet based with little if any provision for those who lack access to the internet.  Of course many in poverty have been gifted old laptops and tablets, but with limited money how do families make the choice between food, electricity and internet? Without access to internet, especially going forward in a digital world, poverty and poor family outcomes will be magnified to the point of permanent depravation.
No access to home schooling – poor educational attainment and poor job prospects
No access to employment web sites – no job, no money leading to food and energy poverty
No access to welfare sites – no opportunity to research and apply for improved benefits that could help in paying for food, child care and housing bills
No access to doctor surgeries – health issues become an increasing struggle ultimately leading to more invasive, and costly, medical intervention
No access to further education and support videos – restricting access to better paid jobs and outcomes
No access to internet entertainment and knowledge – creates a social barrier between families, friends and colleagues
No access to digital banking – money cannot be controlled, or spent on paying bills
There are many other ways that no access to the internet directly deprives families, young and elderly adults from the world of education, career and safety.  Reduced cost internet is no substitute for free access to this core service when subsistence needs to be paid first.
To improve outcomes, and give families a chance to be included in this new world, Westend WiFi enables councils to deploy free Wi-Fi internet to council and housing association tenants.  This uses the concept of leaky Wi-Fi where Wi-Fi access points are placed in communal corridors and other areas allowing the Wi-Fi signal to penetrate property walls so that families can access free and fast internet – it brings the neighbourhood library to their home.
Each home is given it's own unique encrypted family passcode ensuring secure access to the internet, but also allowing mobile internet access when out within the range of public Wi-Fi and public buildings that are part of the scheme.  Instantly connect to the internet as if you were at home.
We architect, deploy and manage the service on behalf of councils and where possible, reduce or negate the cost of the service by offering business based services, such as broadband and LoRaWAN IoT, from key council locations.
We provide the classic one stop shop of:
Fibre back haul – 10Gbps low latency protected and un-protected circuits
Point to (Multi)Point (PtP/PtMP) between buildings sharing capacity and reducing overall running and Capex costs
Outdoor and Indoor Wi-Fi 6 (802.11AX) access points in communal areas that penetrates walls for all room access.  No need to enter a home.
Sub access points are also available for indoor home use including direct Ethernet connection.
Potential speeds are above 1Gbps, typically limited to 20Mbps per person
Each access point is protected with a vandal resistant cover (as used in high risk buildings)
Family On-boarding using BlueportIQ – all families have their own distinct code, not shared with any others
Supports Wi-Fi IoT devices such as access control, lighting, printers, gadgets
Allows roaming between any linked network e.g. street Wi-Fi and market Wi-Fi
Service is filtered using Family Friendly Wi-Fi controls to filter adult content.
Can be used to provide backhaul for upgraded 4k CCTV installations.
Installation is by AD Group, an established and accredited installer of CCTV and control systems into council and public housing.
Fully monitored and managed service, under ISO9001:2015 controls
Service is secured in accordance with our ISO27001:2013 and Cyber Essentials Plus accreditations
The service we provide will make dramatic improvements to the health and wellbeing of all those in poverty, allowing children and adults to freely engage with the world of education, government and employment.
Indoor and High Density
Outdoor Corridors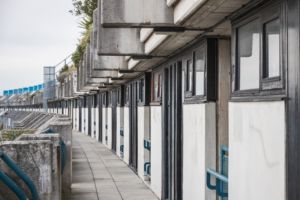 Mixed Housing