Project Description
Best Foot Forward for Pop-Up Wi-Fi
There was a lot of excitement when the cool British designer Jonathan Anderson partnered with the equally cool Converse sneaker brand.  The result was a special edition of "tantalisingly shiny sneakers" which were on sale in a 4 day, pop-up shop in Beak Street, in the heart of London's Soho.
JW Anderson had collaborated before with Converse, to produce a special edition of Converse sneakers which proved to be very popular.
The pop-up shop not only displayed the Toy Collection for keen shoppers to buy but also hosted a series of events at the shop, such as talks and a demonstration of poster and zine printing.
WestEnd Wifi was able to install their pop-up Wi-Fi solution for the duration of the shop's opening which meant visitors could pay for their shoes and post their comments and photos on social media.
All photographs: courtesy of Tim Bowditch
Jonathan said to the Evening Standard:
"We are a British brand and just felt right to do something in London.  And Soho in particular, I love it."
In all, it was a very successful partnership in a stunning and quirky location which appealed to visitors.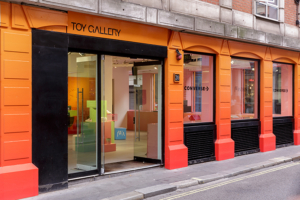 Lindsey Nicholls
2023-04-05T16:54:05+00:00
Choose Love, the charity that is dedicated to improving [...]